Check out what the Yakima store has in stock, Generators, Welders, and Engines. New and used at great prices. Inventory changes, so keep checking back. 
Winco Home Power Tri - Fuel Generator HPS12000HE/F
Winco HPS12000HE/F 12KW  generator is powered by a Honda GX 630 tri-fuel engine.
Full Honda Warranty on the Engine 3 Year Residential use. 2 years on Generator end.
This unit is constructed with the Same engine and generator end as the industrial WL12000HE.
This is built to work, protect, or even to play.
Price $Sold     Set up and load tested ready to go.  Local pick up only.
Home Standby Generators Currently in stock
Yakima generator is an authorized home standby Warranty Dealer for the following brands, Kohler, Onan, Generac and Briggs and Stratton. We do more than sell and install home standbys, we service and repair them, to give you full peace of mind when the power goes out, your generator goes on. 
     Briggs and Stratton 12 KW Home Standby Generator.  The 12 KW standby come with a 6 year warranty and is equipped with an oil warmer for sure starting in cold weather below 30 degrees.   
This home standby paired with a symphony II power management system can meet your needs in a whole house, including up to two 4 ton air conditioners.  
Come check it out at our store 803 n 4th Ave Yakima Wa. 
In Store Price $ 2595.00   Sold
    Kohler 8 Resv with Oncue plus single phase 120 / 240-volt generator. Runs on propane or natural gas.
The Kohler 8 kW generator can easily start and run a 4-ton air conditioner with up to 5 kW preload.*
Every 8RESV comes standard with OnCue® Plus, our remote monitoring system, which gives you peace of mind at home no matter where you are in the world.
In Stock Price $ 2330.00 Sold can be ordered
Yakima Generator your source for portable generator power
    Portable generators come in all sizes from the small suite case inverter generators with power port and USB plug-ins, along with the standard 120/ 20 amp and 120/ 30amp plug-ins.  
   Standard portable generator come in 3 categories, General purpose, Premium, and Professional- grade.   Portable generators go up to 15+ Kw, Gas, Diesel, and Propane, to power just about all your needs. 
   All our generators we keep in stock are assembled, checked over, started and tested.  Ready to run when you need it.
Our current stock in Yakima Wa. of portable generators
Briggs and Stratton 3500 Watt generator with a 4375 watts of surge power. comes standard with a RV plug-in, to power your trailer or motorhome.  
In store price $ 458.00   Currently out of stock
Set up and ready to run, pick up at the Yakima Wa. Store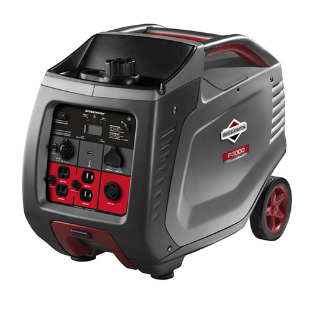 Briggs and Stratton P3000 PowerSmart Series™ Inverter Generator, 2600 running watts with 3000 watts surge power. 
Winco WL12000HE industrial power generator, 10,000 watts with 12,000 watts surge. Assembled with wheel kit, started and tested READY to RUN.
Sold – More coming in
Price $ 3800.00
Engine
Durable Honda 

GX630

 commercial engine
Cast iron cylinder sleeves
Fuel efficient design
EPA and CARB approved
Electric start
Generator
Clean power at less than 5% total harmonic distortion
Steady voltage regulation is safe for sensitive electronics
Heavy duty capacitors and diodes
100% copper windings
Additional Features
Large 15 gallon fuel tank
Oversized full power plug
Industrial Square D mainline circuit breaker

Industry leading 1/

60th

 second reaction time

Visi-Trip

 indicator

Made in USA
Full commercial warranty

3 years engine
2 years generator
Winco DP3000/T Industrial portable generator.  This generator was made to run Drills, grinders and other heavy instant draw equipment.  The DP3000 has continuous 2500watts with a surge of 3000 watts. Powered by Honda GX engine and a Mecc alte generator end.
In Store Price $1090.00
We stock Honda and Briggs & Strattons Engines at great prices.  
Current inventory includes, Honda GX160, GX 240, Gx 390 for your commercial or industrial needs, and the Briggs and Stratton 950 series engine for wheeline, tiller or any general purpose replacement. 
Honda GX 240 commercial engine 
Sale Price $ 595.00  Limited to stock on hand
Briggs & Stratton Horizontal 950 Series 3/4" x 2-27/64" shaft.  This is a great general purpose engine. 
Sale price $ 232.00 Limited to stock on hand
Used Generators, Welders and Engines at Great Prices, Ready To Run
Used equipment has been started and tested and checked over. Reasonable offers will be considered.